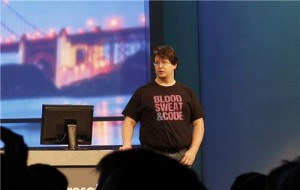 Today was a *HUGE* thrill as I got to present in the keynote at //build! I'll have more on the specifics of Brokered WinRT Components later after my session, but apparently quite a big deal was made of my shirt. I ended up as an internet meme and on the CNN Live Blog!
A long, long time ago (back when I wrote Photoshop Plugins for Mac long before I joined Microsoft), I had a Metrowerks CodeWarrior t-shirt with the "Blood Sweat & Code" slogan on the back. I loved that slogan, but lost the shirt somewhere along the way. So a few months ago, I decided to make a new one – but this time with the purple and blue of Visual Studio's brand instead of CodeWarrior yellow. When I got a chance to be a part of the //build keynote today, I figured it was a good wardrobe choice.
For those who want one of their own, I posted the design on Zazzle.